Give Your Garden The Festive Feels This Christmas
The moment the clock strikes midnight on December 1st, houses all across the country start lighting up with Christmas cheer. In some places, that Christmas cheer reaches truly epic heights. These little villages may be a blip on the map, but, man, do they go big. All we can do is stare in disbelief. 
That's because, for most of us, decorating the house is exhausting (and gaudy) enough. But why stick to the indoors when we have a garden to razzle and dazzle too. Okay, so it's a little cold outside, your lawn hasn't been mowed in a month or so, and a raincloud is never too far away. But imagine taking your festive fun outdoors for a little bit this year. Drinks on the decking, mince pies in the garden room, carols sung around a tree that hasn't been chopped down (just so we can decorate its carcass). And, who knows, maybe a turkey cooked on the old BBQ. Of course, to do all this, you need to sprinkle a little bit of seasonal cheer on your little slice of the great outdoors. 
And in that spirit, here's some easy ways to transform your lawn (and garden) into a winter wonderland (probably) using materials you already have lying around. After all, it's never too late to make your lawn look epic: 
BYO Rustic Reindeer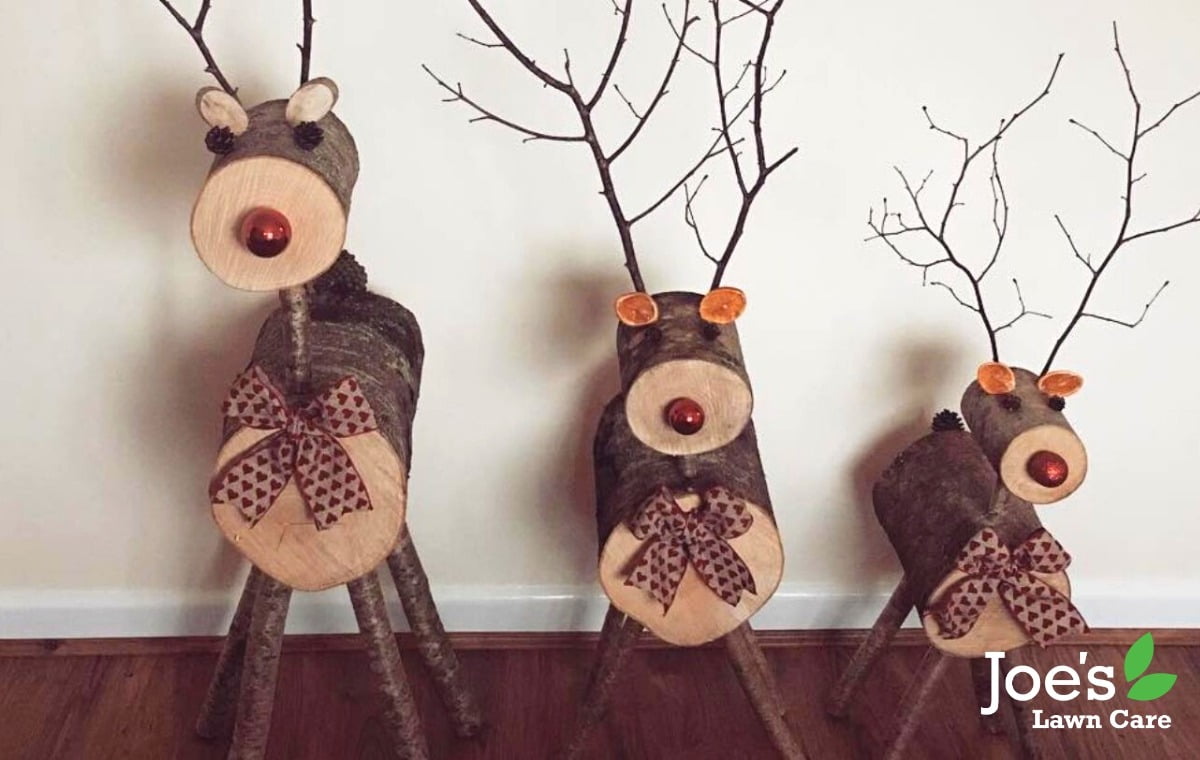 I know what you're thinking, and it goes like this: there's no way I'm remortgaging my house to buy a rattan reindeer. And nor should you have to. But what you could do instead is even more charming: Build your own reindeer family using those birch logs at the back of your garage and some of the overgrown branches in your garden. All you need is a biggish log for your reindeer bodies, a smaller one for their heads and some sturdy branches you can whittle into a neck and four legs. Then, to pop the finishing touches onto Dancer and Prancer, use some coal for the eyes, twigs for the antlers and that pinecone that's been sat by your front door all autumn for the tail. Voila, you have a handmade reindeer to pop in the middle of your lawn. 
Christmassy Chandeliers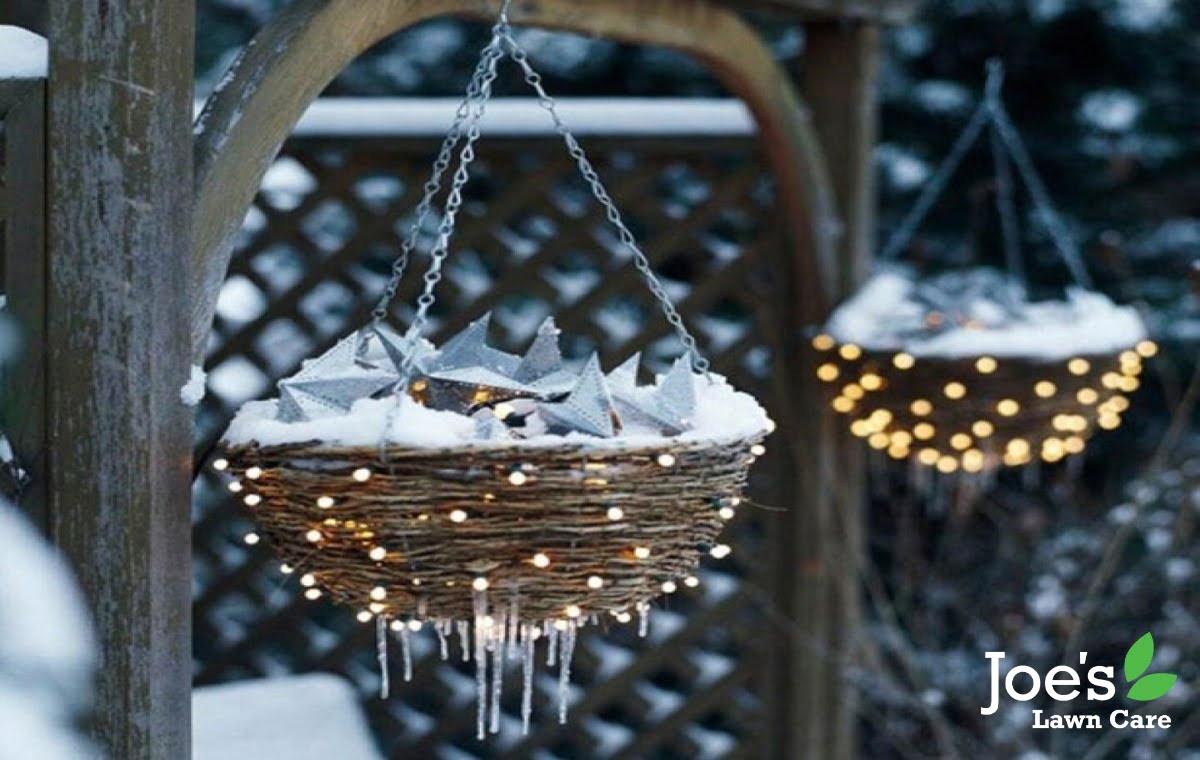 The thing about hanging baskets is they look great in the spring and summer, but as soon as autumn comes, they fall into a category labelled 'out-of-commission'. But not anymore. Simply grab a couple of hanging baskets, clear them of old flower debris, tie them together using cable ties so that they form a sort of sphere and then start jazzing them up with whatever you have in your Christmas drawer. Spray them gold, tie fairy lights around them, dangle mistletoe from the bottom. Then, when you're happy, hang them above the seating area next to your lawn. Gorgeous. 
Festive Planters Anyone?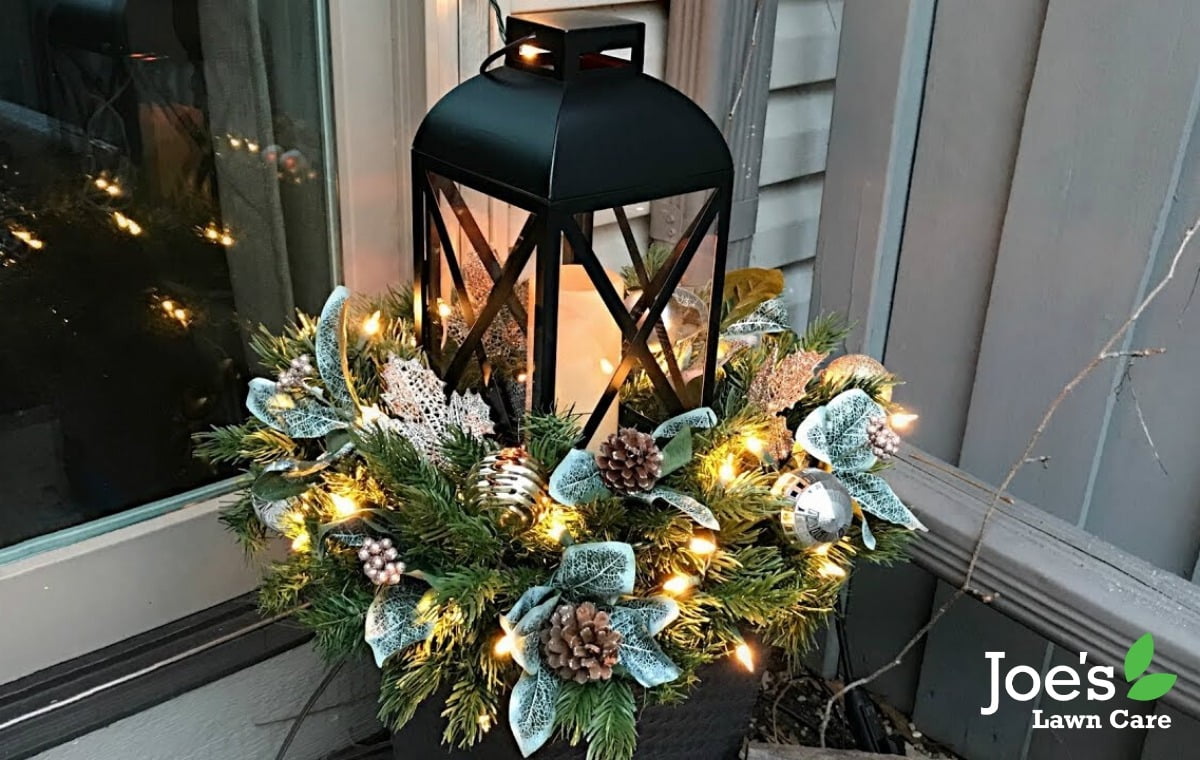 There are some things we all have in common: a mild addiction to coffee, the urge for a McDonald's everytime we're hungover and leftover planters in the garden come winter — and here's how to use the latter to bring some festive cheer to your lawn. Simply fill your empty planters with some of the spruce sprigs you have lying around and then decorate them with all those baubles too garish to be used indoors, any artificial flowers you might have beneath the stairs, pinecones, sprigs of holly and anything else that gives you all the yuletide feels, like a long line of fairy lights.
Make Your Trees Lit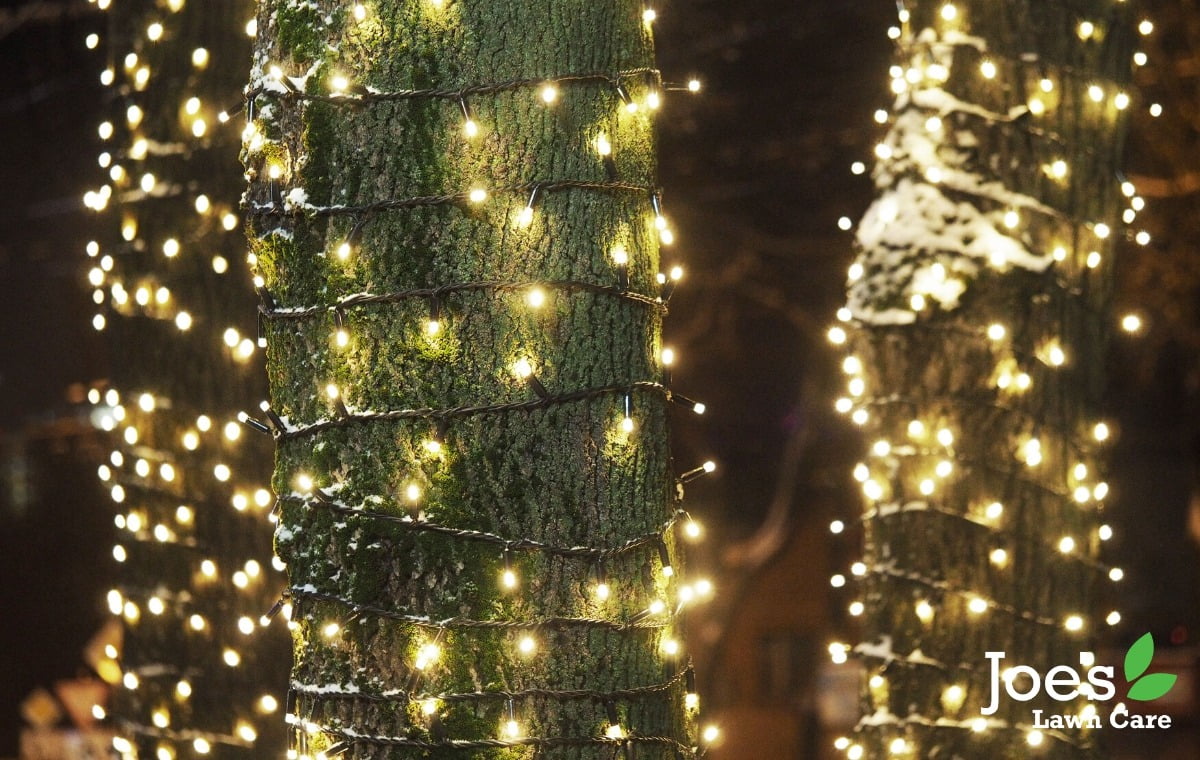 Despite popular belief, Christmas isn't all about dragging a Nordman Fir back from Homebase and exclusively decorating that tree. At least, it shouldn't be. Because nothing will make your home look more Christmas ready than jollying up all the trees around your lawn  your garden with string lights. It's easy too. For a truly stunning effect, all you need to do is untangle your fairy lights (urgh) and then wrap them tightly around each tree's trunk (yay). And if you want to make your garden look even more 'wow', simply hang some oversized baubles from the branches. 
Fountains With All The Festive Feels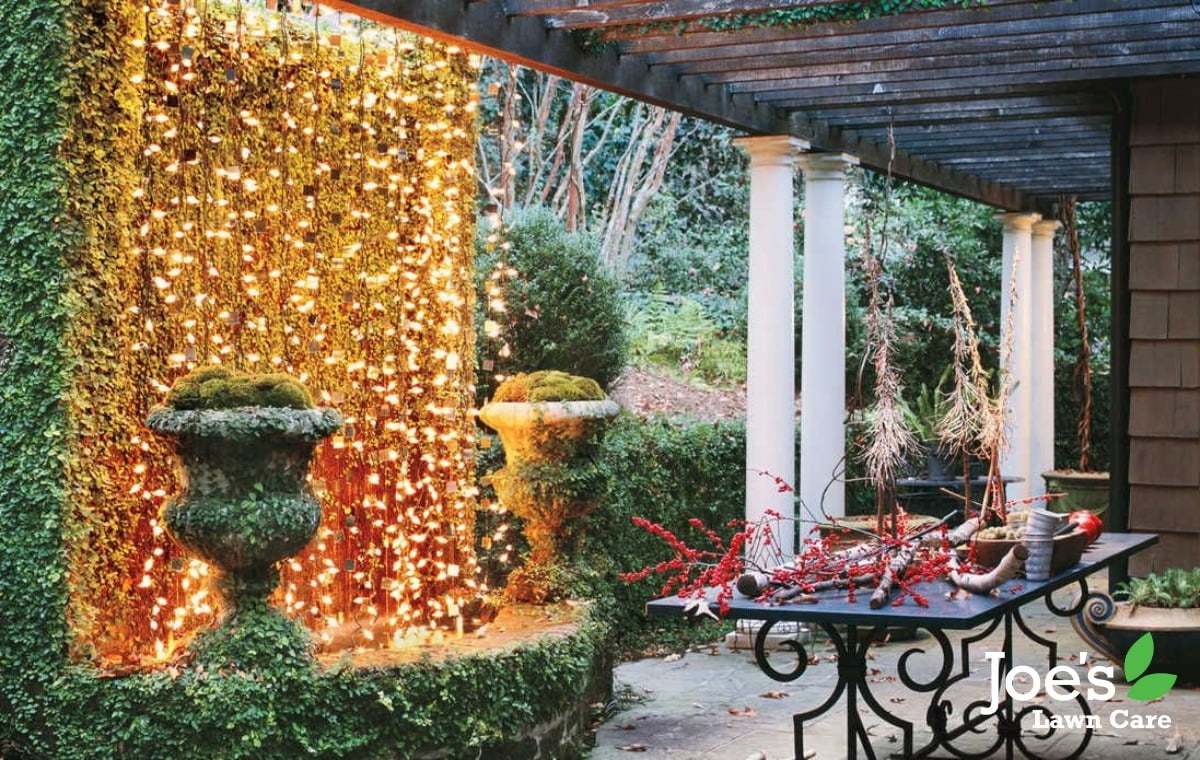 When your garden fountain isn't being used as a bird bath, try adding some Christmas cheer to this stonework centrepiece. You can add floating lengths of garland, mistletoe, pinecones, baubles, succulents and fairy lights around it from top to bottom. Whether you're enjoying a mulled wine on the patio or a mince pie in the living room, giving your lawn a little dazzle never goes amiss. 
Train Your Plants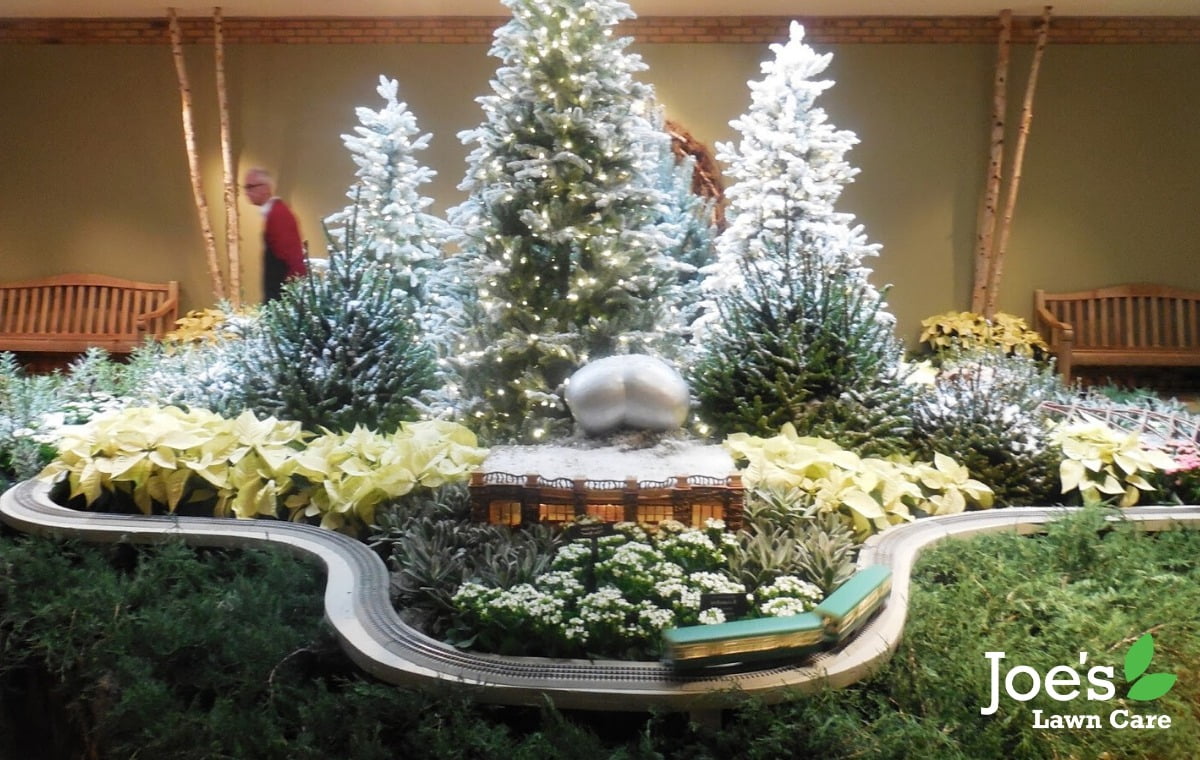 Unleash your childlike wonder this Christmas by using a toy train to show off your garden. Here's how: pick out the plants, shrubs and parts of your lawn you are proud as punch of (and have managed to survive winter). Then showcase them by decorating a toy train with some twinkling lights and setting it to go round and round your lawn. Trust me, everyone who stops by to say hi will want a garden like yours.
Thanks for reading our blog to Give Your Garden The Festive Feels This Christmas! For more lawn care tips and tricks, follow us on Facebook and Instagram.