How To Make Your Lawn Look Like Centre Court At Wimbledon
Your no-nonsense guide to getting a lawn like the centre court of Wimbledon.
Ladies and gentlemen, the Wimbledon Tennis Championships are back. AKA: two-weeks of drinking Pimms, eating strawberries and cream, listening to the dull thud of bats hitting balls, wondering who has the loudest grunt and arguing about whether Federer is a Swiss god or a bit smug. Oh, what a time to be alive. 
But my love for Wimbledon isn't what you'd expect. My knowledge of tennis extends to "is that Djokovic chap any good?" My racquet skills saw me lose 6-1 the last time I stepped onto a court. And, well, I don't actually know who's playing in the tournament. But there's still one absolutely ginormous reason I cannot get enough of it: the world-famous grass.
The lawns, all of them – from Centre Court right down to the ones on the outskirts of SW19 – are manicured to perfection. To the point where 50% of the spectator chat must revolve around serious lawn envy. But what I have always wanted to know is: can a normal human being reach this #lawngoal? Or would you have a better chance getting in as a wildcard and then winning the Venus Rosewater Dish?
So, without further ado, here's everything you need to know:
The Good News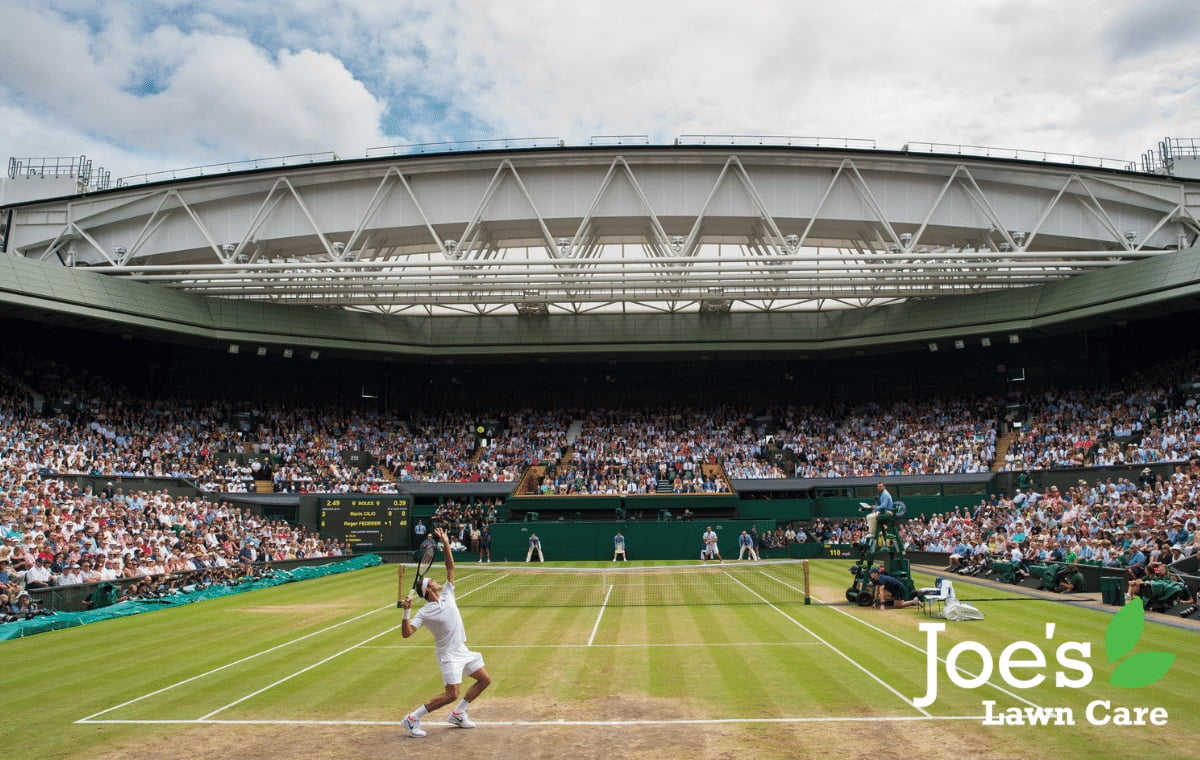 No. It's not possible. Not really, anyway. But that's because the tennis courts at Wimbledon are designed to make those little yellow balls bounce high enough that the rally's are entertaining. To do this, the grounds-people at Wimbledon have to make the lawns super-duper compact. They do this with very-very short manicured grass. The total opposite of what you and I want to achieve for a healthy back garden.
Some Even Better News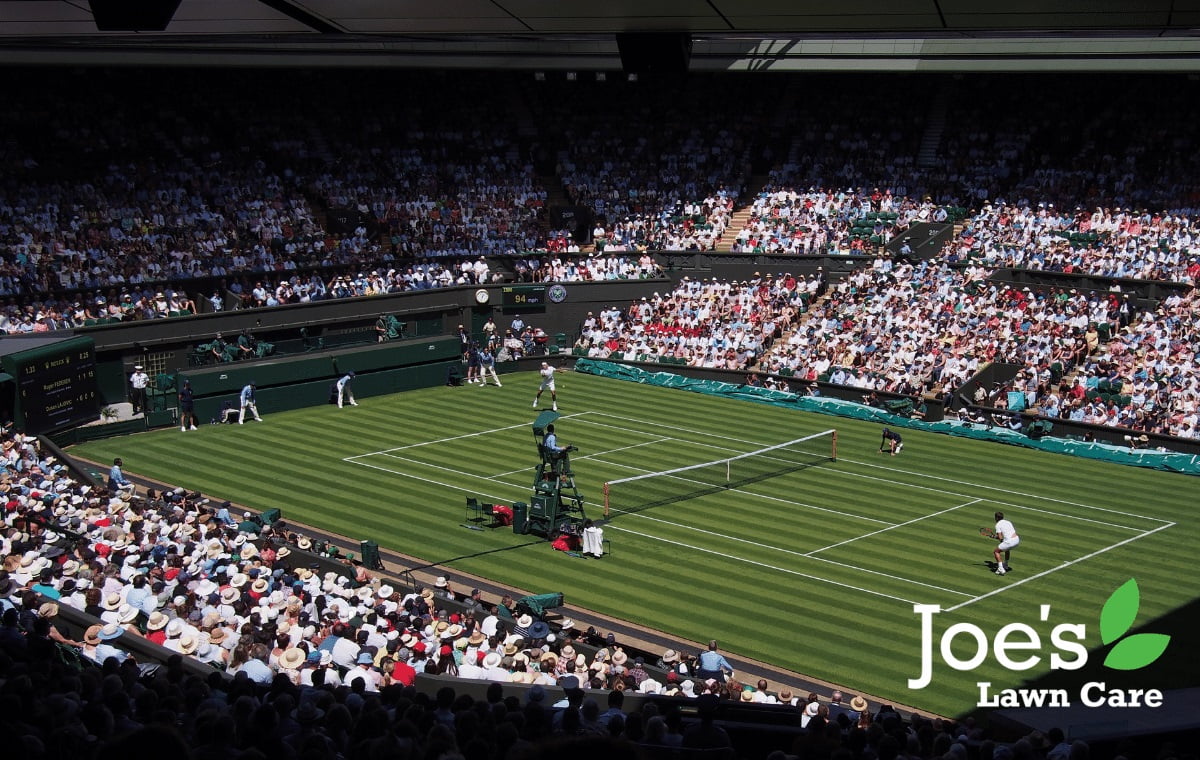 Just because you can't compete with Centre Court on ye olde ball-bouncing front, doesn't mean you can't make your lawn look the same. Minus: the white lines, taut net and line judges who are surely redundant now that we have such impressive technology. Yup, that's right, you too can achieve the same striped, greener-than-green lawn effect you'd associate with Murray's victory ground. 
Ideally, what you want to do is replace your current turf with 100 percent perennial ryegrass. Ryegrass has a larger leaf than your natural grass and is a much darker green. Once you've done this sweat-making task, regularly overseed your lawn and then replace the whole thing each year. Like they do at Wimbledon. That's how to improve your garden's durability and good looks. 
But given it's unlikely you're going to do that each spring, you're much better off reading my how to guide on lawn striping and follow it up with a solid 12-month lawn care program. A program that includes scarification, aeration, overseeding and soil improvement (aka my Essential Plus package, now with 10% off). Not only will you end up with a Wimbledon lookalike, it will be way less time-sapping and waaay less expensive. 
7 Steps To Growing A Wimbledon Lawn (According To The All England Lawn Tennis Club)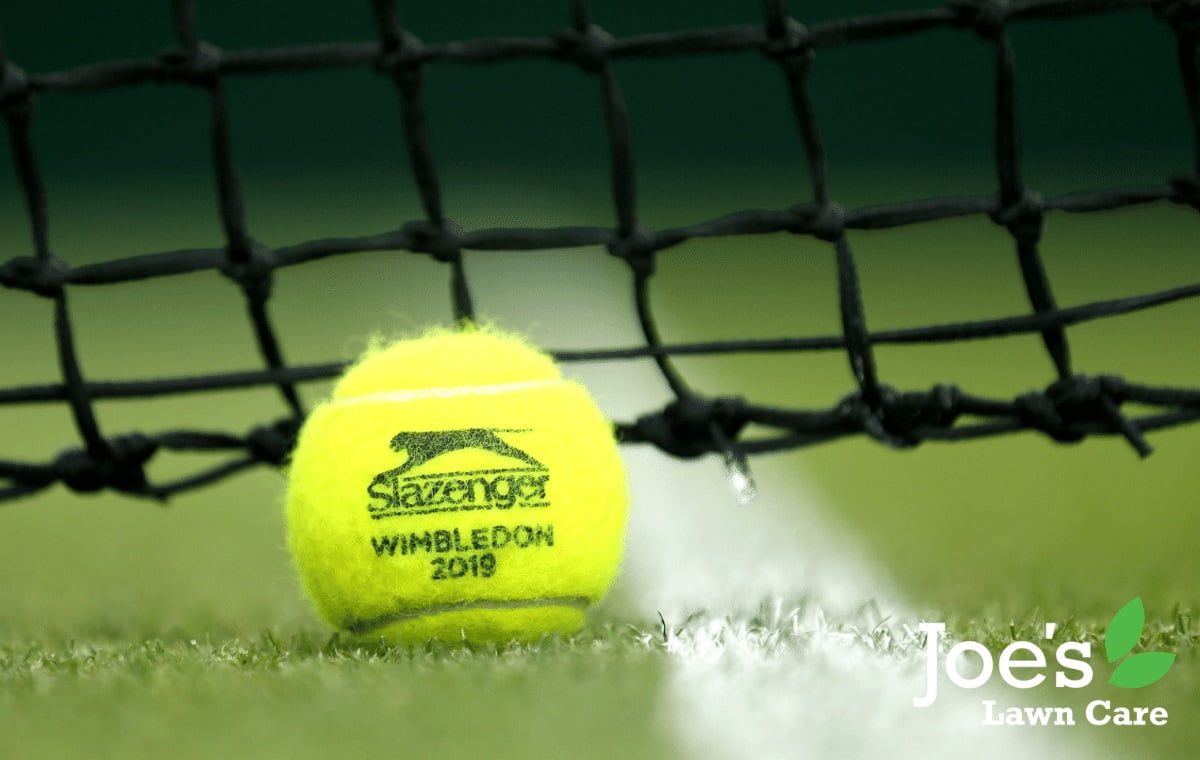 Step 1: Construct and seed your lawn in April using nine tonnes of grass seed. 
Step 2: Let the new grass reach 15mm in height. Then, in May, whip out your mower and start cutting your lawn three times a week to keep it at the same height.
Step 3: Between the end of May and the start of July, trim 1mm off your grass length each week. It wants to be 8mm high, ready for when the championship starts. After this, cut your lawn every day (and repaint your white line markings every evening, if you have any). 
Step 4: Splash a little bit of water about your lawn at night to help the grass survive.
Step 5: Once July is over, you can slow down a bit, only cutting your lawn just three times a week. Water as needed to help the plants naturally firm up.
Step 6: At the end of the summer, add exactly six tonnes of soil on your lawn to make sure the surface is level.
Step 7: Sit back, relax (between mowing sessions) and pop a photo of your Wimbledon lawn onto Instagram. Easy.
Thanks for reading my How To Make Your Lawn Look Like Centre Court At Wimbledon guide! For more lawn care tips and tricks, follow us on Facebook and Instagram.