Top 5 RoboMowers To Buy In 2020
There's a robotic mower for every kind of lawn and every kind of chilled-out owner…
I'm gonna tell you what no Sci-Fi movie ever will: robots are awesome. And you can have RoboMowers now in your garden, we have the top 5 which you can get your hands on in 2020 here…
Okay, so there's a couple of futuristic movies that high-five those twisty metal arms (we're looking at you Inspector Gadget). Most Hollywood Directors tend to cast robots as untrustworthy. The sinister creations that have one heck of an ulterior motive: the total annihilation of human life which, let's be honest, isn't for everyone. But the way I see it, robots are still awesome. Always have been, always will be. 
It doesn't matter whether they're fictional characters invented in the weird world of a filmmakers mind. Or actual inventions drawn up by the world's most epic nerds scientists; the very idea of the robots has always tickled my intrigue. And now there are robots that can mow your lawn. 
Mowing for those who don't want to, can't be bothered, haven't got the time for it…
For anyone that's ever looked out at their garden and thought, "Man, mowing can be an arduous task". Then this is a freakin' dream come true. And, guess what, there's loads of robot lawn mowers kicking around nowadays. 
Of course, choice can suck, which is why I've pulled together a no-nonsense guide to the most impressive autonomous cutting machines. Why? So you can watch your lawn get a spruce up while you're loaf about in the summer sun.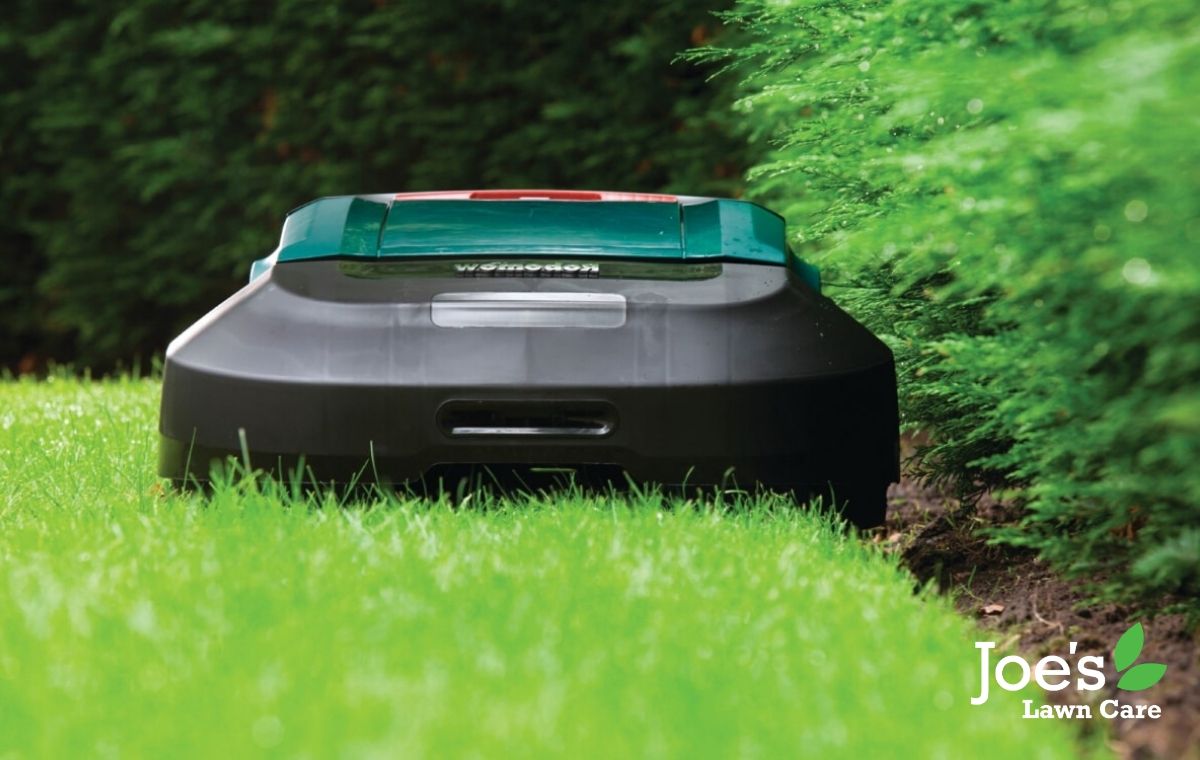 When it comes to robo-mowers, there's so much competition. Or at least there should be. But there isn't because this one is just on another level. Whether you have a nice flat lawn or an undulating one that's chock-full of tricky-to-reach areas, this robot will give your lawn the neatest crew cut. And guess what? You won't ever shed a bead of sweat. 
Here's everything you need to know about the Robomow RS635:
Blade size: 56 cm (so an immediate impact then)
Mow height: 20-80mm 
Incline limit: Up to 36% slopes (translation: that's insane)
Run time: 80 mins (so you can watch Pointless and have dinner before it's finished)
Charge time: 90 mins 
Cutting area: 5000 square metres (Holy moly!)
Noise level: Eerily quiet
The bad bit: Oh, she's expensive
Perfect for: Lazy gardeners that like to sing, "One man never mowed, never mowed his meadow, 'cos he was happy drinking mimosas instead"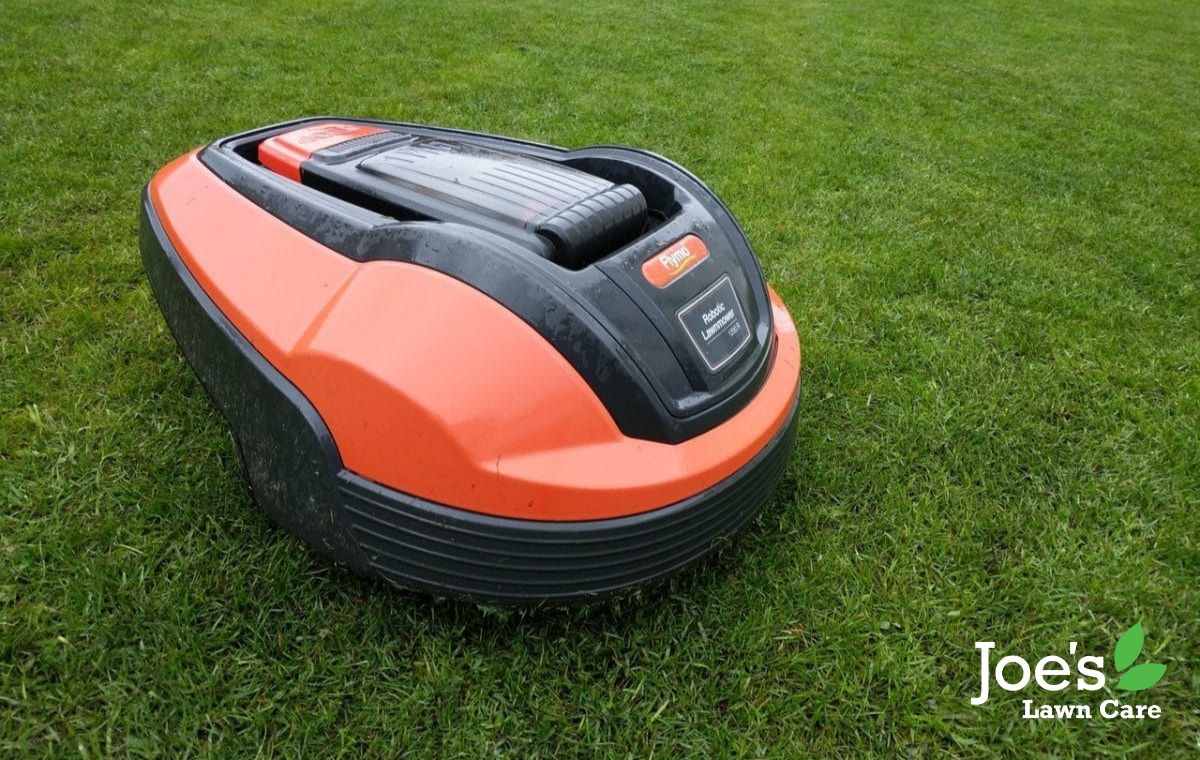 Flymo may have started life as the bright orange laughing stock of the lawn mower showroom. But man, have the boys and girls at Flymo excelled themselves with 1200R. Not only is it just £650, but it has a blade that's been designed by people in white lab coats to make less mess and will cover a 400 square metre lawn. Oh and it's silly quiet. It's like listening to your grandma whisper down the phone. 
Here's everything you need to know about the 1200R:
Blade size: 17 cm 
Mow height: 20-50mm 
Incline limit: Up to 25% slopes (that's pretty decent, right?)
Run time: 50 mins 
Charge time: A rapid 50 mins 
Cutting area: 400 square metres
Noise level: She whispers
Bonus points: Anti-theft protection
The bad bit: Only works within a single zone (so front or back garden)
Perfect for: Those with small / medium-sized lawns that aren't great with too much tech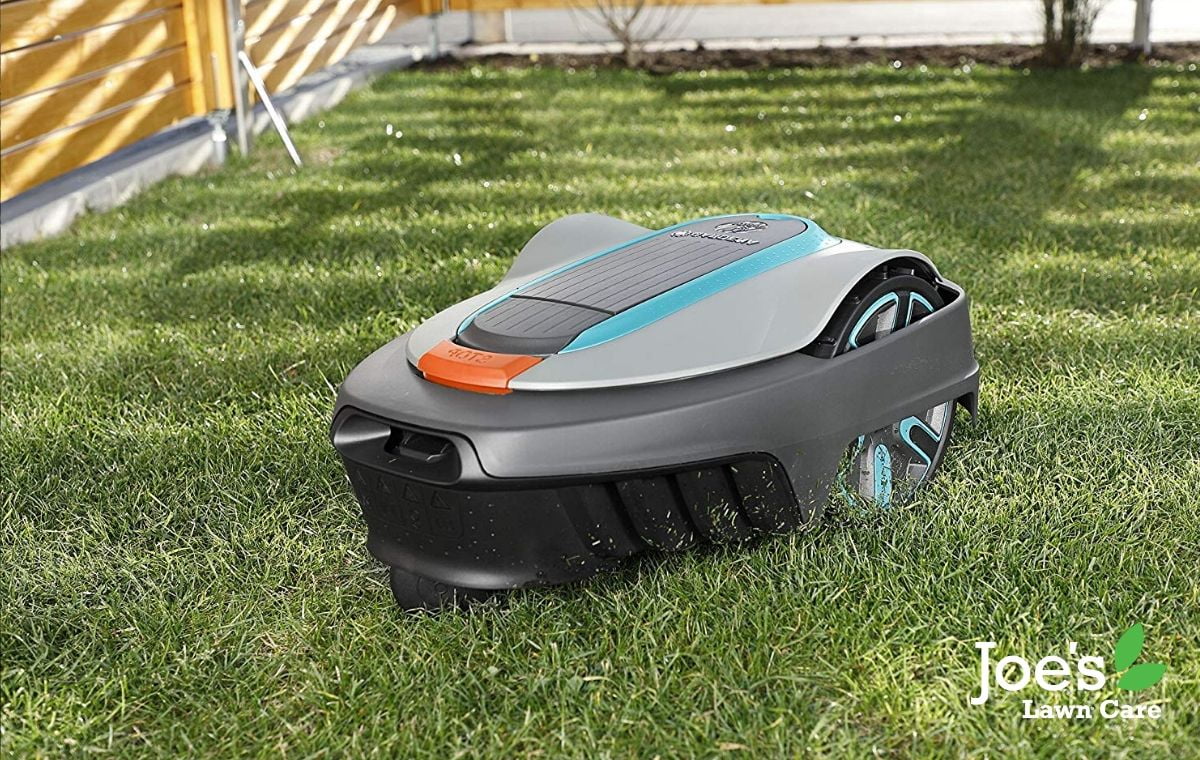 Let's face facts: more and more of us are moving to cities, which means more and more of us are living with smaller gardens. That's where this city-dwelling robomower comes into its own. With a non-stop chopping time of over an hour, this guy can easily handle a 250 square metre patch of the green stuff. Even if it can't do it in one go, he'll wander back to base on his own for a quick 60-minute juice up. Not bad for a reasonably priced robot that's pretty darn quiet and ridiculously water resistant.. ("Pah, I laugh in the face of heavy rain and burst hosepipes," said the Sileno City 250). 
Here's everything you need to know about the 1200R:
Blade size: 16 cm (which is quite small)
Incline limit: Up to 25% slopes (which is about as steep as it gets in a city)
Run time: 65 mins (hint: that's long)
Charge time: 60 mins 
Cutting area: 250 square metres (max.)
Noise level: 58db (a mere purr, some would say)
Bonus points: Super good running time
The bad bit: Pretty narrow blade and a pretty slow cut
Perfect for: Uber-busy people (like Prime Minister busy) and those who can't be bothered to get off their backside to have a quick 7-minute whizz around with a cheap cordless mower.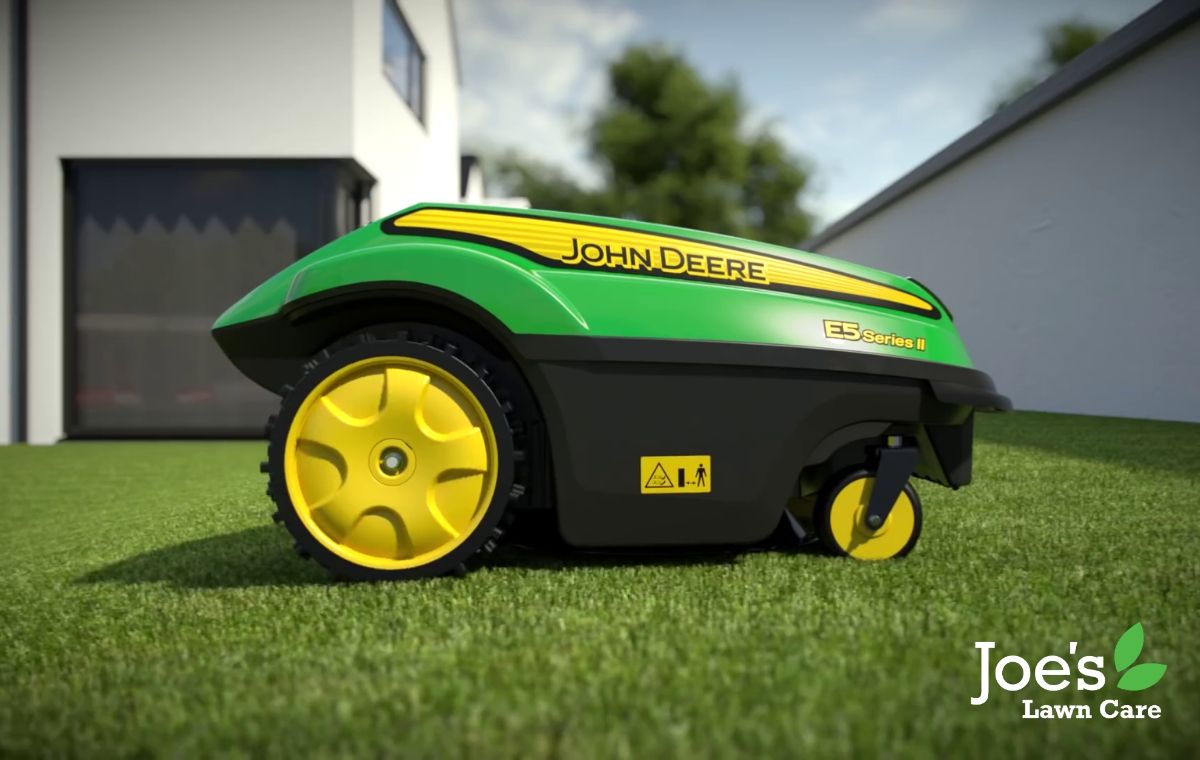 Yeah, as in the John Deere. That utility equipment behemoth that's known for making green tractors. Ell, they've ventured into the robomower game and the Tango E5 Series II gives you exactly what you'd expect: reliability. Raining? Doesn't matter. Hilly? Who cares. Dinosaur invasion? This guy has you covered, and it will do so with speed, precision and barely any noise. But here's what really sets this guy apart from the rest: the star-shaped blade. Now that may sound like hogwash to most. But this design means your blade is protected against things like rocks and diamonds so you won't have to worry about replacing or repairing your blades. Pretty handy when you're John Deere is mowing 2,250 square meters at a time. 
Here's everything you need to know about the Tango E5:
Blade size: Unknown
Mowing height: 19 – 102mm
Incline limit: Up to 36% slopes (it can basically climb up walls)
Run time: 90 mins (that's epic)
Charge time: 80 mins 
Cutting area: a whopping 2,250 square metres
Noise level: 51.2db 
Bonus points: Best blade out there, fact.
The bad bit: You'll have to spend over £2000
Perfect for: Anyone that loves the colour green and owns a field or two.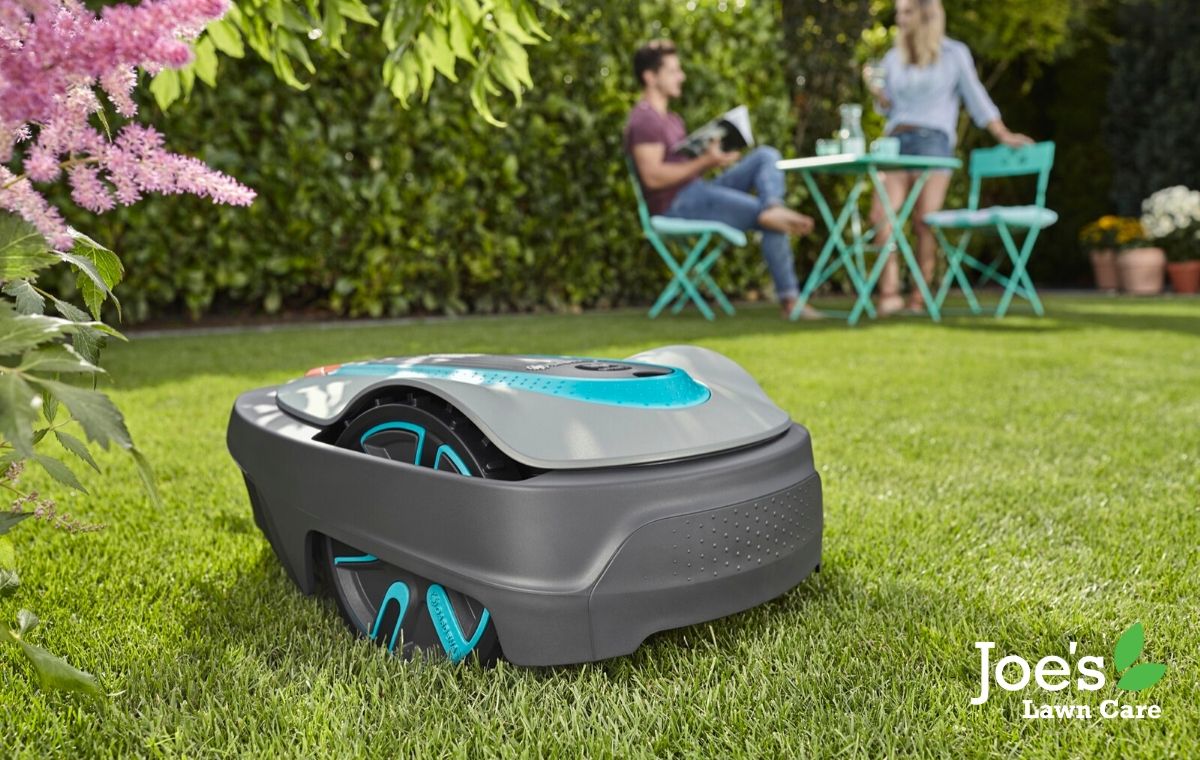 Technically, every mower on this list is a robot. However this beauty is the Apple Watch standing in a garden full of Casio Classics. There are features such as electronic timers and automated garden sprinklers, which means your devices:
a) can chat to one another
b) can be controlled from your smartphone
But the whole "I'll only mow when the sprinklers aren't on" feature isn't all it does. The Sileno+ also has a SensorCut System that is able to measure the height of your grass. And will only get its mow on when it feels it's necessary. Oh and it can climb up 35% inclines too. Not bad, huh?
Here's everything you need to know about the Smart Sileno+:
Blade size: 22cm
Mowing height: 20 – 60mm
Incline limit: Up to 35% slopes 
Run time: 65 mins (nice!)
Charge time: 50 mins 
Cutting area: 1,300 square metres
Noise level: 56db 
Bonus points: Intelligent and epic when it comes to more complex lawns
The bad bit: Nope, I can't think of anything
Perfect for: Everyone
Thanks for reading 'Top 5 RoboMowers To Buy In 2020′ blog! For more lawn care tips and tricks, follow us on Facebook and Instagram.