Joe's Guide To May Lawn Care Tasks
What's not to love about May? Like, seriously, what's not to love. Summer finally feels like it's here, every other week seems to bring another Bank Holiday weekend, your garden is full of blooming flowers, barbecue season is now officially underway, al fresco entertaining is back and, at the top of the list, it's growing season for your lawn. Translation: it's time to slap on some sun cream, yank the starter cord on your mower and give that patch of grass your full attention, energy and enthusiasm.
So without further ado, here's everything you need to know about lawn care this month. Let's gooooo!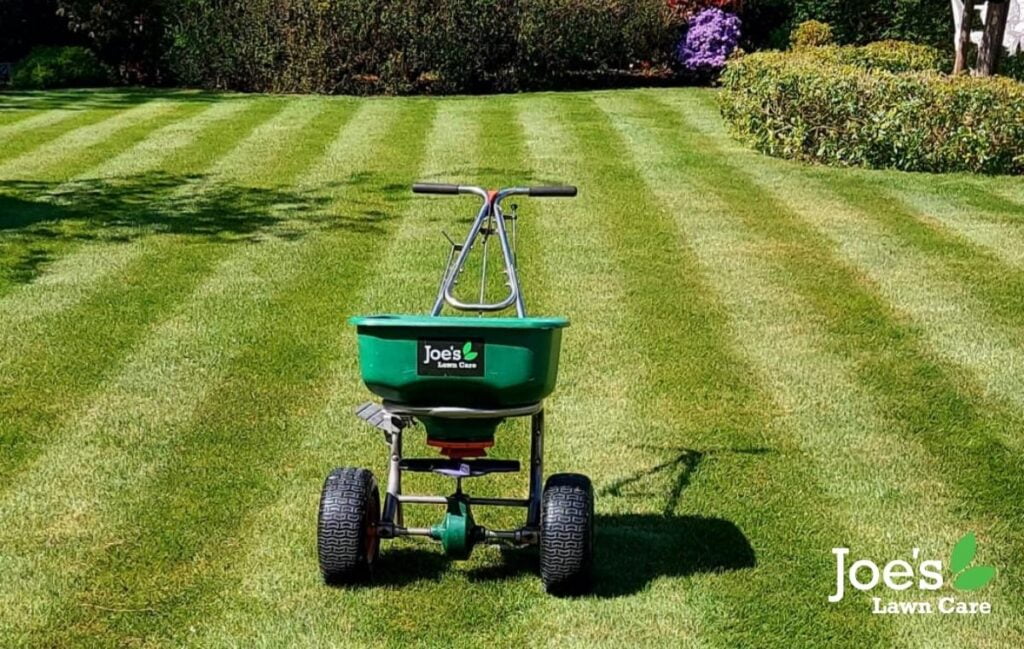 Get Ready To Mow
With the weather hotting up, the soil temperatures rising and the growing season now well underway, it's time to write two reminders on your ongoing to-do list: keep it clean and keep it sharp. Not only will this make your mowing sessions a whole lot easier, but it will help keep your grass healthy throughout the summer. Of course, looking after your lawn is not just about a sharp blade; it's about mowing at the right height, so don't try to cut corners by dropping your mower deck and scalping your lawn. Not only will this weaken your grass and stump your roots but it will also encourage weeds, urgh.
Thoughts on Fertilising 
When it comes to a good old springtime fertilise, we'd usually recommend you apply your lawn feed in April to encourage good growth as the temperature warms up. That said, May isn't too late to fertilise your turf if you didn't manage to find time the month before… just make sure you're using a spring or summer fertiliser if you feeding your lawn this May. 
Weed & Moss Control
We're not sure if Sir Isaac Newton was talking about lawn care when he said, "For every action there is an opposite and equal reaction," but he was right: in the same way May is a prime grass-growing month, it's also the time of year when weeds start loving life too. So grab your gardening gloves and get on top of your weed problem before they grow, sprout and germinate, whether that's by pulling them out by hand or spraying them with an organic weed killer. 
The same goes for the moss growing amongst your grass, which we'd recommend tackling with a DIY dish soap solution as opposed to a rake at this time of the year, but we'll get into that a little more in a minute.
Rock n' Rolling
If you're after the dreamiest of lawns – the kind that will have your neighbours furiously WhatsApping each other as they try to figure out your secret – you'll want to start rolling your lawn as a way of flattening any areas raised by worm activity, busy moles or even frost. Just make sure you do this when the ground is nice and firm and, remember, rolling your lawn will not level it, only top dressing will achieve that.
Pests & Diseases
The good news is, May is one of those month's where diseases aren't all that common. That said, with the temperatures on the up, you may start to see red thread making the most of the humidity. What's more, if it stays warm while raining regularly, you might find yourself dealing with an outbreak. If that happens, the best thing you can do is defend your lawn with high-in-nitrogen fertiliser. Other annoyances you should be on the lookout for include fairy rings, dry soil conditions and both chafer grubs and beetles. 
Aeration is Always Essential
While it may be a little too late for a core tine aerator to be used (unless you can irrigate the drying soil), it's never a bad time to get your aeration on if you're using a rolling aerator, aerator sandals, a garden fork or anything else that can spike your soil. Why? Because a well-aerated lawn will find it easier to stay lush n' greener during any dry weather, make the most of those rain showers and allow air, water and nutrients to move through the soil more easily. Of course, if you've got a big lawn, you probably did an unintentional eye-roll, so save yourself a sweat-fest by focusing on the most trafficked areas, such as your postman's shortcut, that area around your kid's football goal, the path to the clothes line or even the route you take to reach the shed. 
Rules on Raking
The moment you spot a load of moss in your lawn, your automatic reaction is probably to grab the rake and go to town on it, which we definitely recommend. Just, you know, do it gently this month so that you're a) keeping damage to a minimum and b) not creating any bare patches, which is exactly what the millions of weed seeds are waiting patiently for. 
Thanks for reading the no-nonsense Joe's Guide To May Lawn Care Tasks. For more lawn care tips and tricks, follow us on Facebook and Instagram.