The Ultimate Guide To Cleaning Your Own Patio
You probably realised this way before the words 'lockdown' and 'social distancing' became part of your daily vocab, but your garden is that little oasis you can escape to come rain or shine. Picnics on the lawn, flower beds bursting to life like a slightly needy rainbow. Garden games with the kids, becoming one with your mower to create the sexiest striped lawn this side of Wimbledon and barbecues on your patio. We wanted to give you Joe's ultimate guide to cleaning your patio…
Guide to Surface Cleaning
Yup. Stepping away from lawn care for a moment. Now is the time to make your patio more spotless than a celebrity's complexion. Which means putting aside a sunny morning for some surface cleaning. Ooooo, talk dirty to me.  
With the constant rain-then-sun-then-more-rain kind of weather we get in the UK.  Most patios are susceptible to greenish-black stuff emerging in the cracks and on your slabs. This gross, sticky, unidentifiable mess is usually a mix of mould, mildew and moss. 
Basically, what happens is, we get lots of moist conditions thanks to rain and humidity. This encourages mould and mildew to grow in the nooks, crooks, crannies and cracks of all kinds of patios: stone slabs, concrete pavers, bricks, all sorts — and it looks rubbish. 
Avoid damaging the garden
But instead of just blasting it with harsh chemicals that will destroy parts of your garden, the nearby landscape and possibly the entire world (okay, maybe that was slightly too dramatic), you have a couple of options:
Ask us about our

surface cleaning service

.

Which, not to give you any spoilers, is a way cheaper, much longer-lasting alternative to pressure washing, or…

Pull on your gardening gloves, unleash your inner DIY expert and use these epic, natural, super-versatile ingredients in your cupboards. Such as, vinegar and baking soda, to tackle your mould or mildew problem.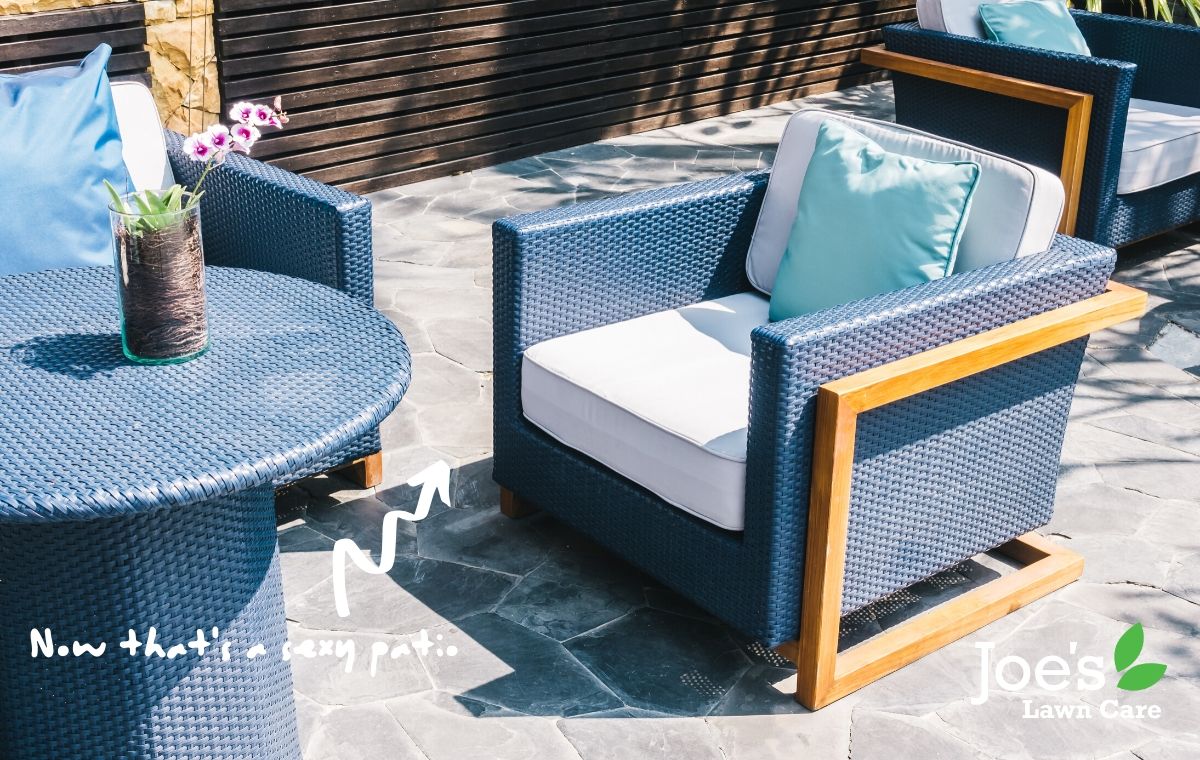 The Trick Is To Clean Your Patio or Outdoor Surface More Often
How much mould, mildew and moss you have to battle with totally depends on the frequency you clean your patio. It's as simple as that. That said, some parts of your patio may just be super-susceptible to mould because they're in the shade. Or there's a leaky gutter above it or they never get the afternoon sun, in which case you may need to repeat your cleaning efforts more often. Most of the time, however, you can get away with cleaning your patio once a year, as part of your late spring / early summer gardening efforts. It may sound like a lot of effort but, c'mon, we all need to take a break from those Zoom parties at some point. 
The Patio Cleaning Equipment You'll Want (And Need)
Step 1: The Tools
Knee pads (because no one likes a sore patella)

Hard-bristle scrubbing brush that's preferably non-metallic ('cos metal scratches)

Either a hose with a power nozzle attached or a pressure washer 

A bucket or spray bottle for your magic mix
Step 2: Your Materials
1/2 cup of white wine vinegar

1/2 cup of baking soda

1 cup of warm water
Time To Clean Your Patio With A Homemade Solution
While we like to use a fancy, no-nonsense, gets-the-job done cleaner to leave your patio looking even better than the day you got it installed, there is a way to whip up your very own homemade patio cleaning solution and technique that will get your patio sparkling like Champagne in the afternoon sun, and here's how:
First Up, Prepare Your Magic Mix
Get your cup of lovely warm water, pour in the white vinegar and baking soda, and then mix until you're satisfied. This is your magic mix, which you can now carefully pour into either a spray bottle or keep in your bucket to be applied with a sponge. 
Now Wet Your Patio Area
Twisting your hose nozzle to the power setting (or put your thumb over the end), hose off the yucky area that desperately needs a clean — and don't hold back. You want this area to be totally soaked.
Time To Apply The Solution
It doesn't matter whether you've gone for the magic mix in a spray bottle or soaked a sponge in the stuff, so long as you apply this solution to one area at a time, breaking your area into manageable parts.
Let The Magic Happen
This is probably the most important step because you need to leave the solution for a few minutes so that your magic mix can permeate the surface ready for cleaning. The longer you leave it, the better, so if your mossy, mildewy area is especially thick, let the solution soak in for a half-hour or so.
Unleash Your Hard-Bristle Brush
Now's the time to head to the cupboard under your sink, pull out a pair of yellow rubber gloves and get down on hands and knees (cue the knee pads) with your hard-bristle brush to scrub like you've never scrubbed before. Of course, technique is pretty important here, so here's a pro tip: scrub in a circular motion while tackling a 3ftx 3ft area at a time. You may also want to dip your brush into the magic mix as you go, and don't stop until you can visibly see some progress. We know this isn't ideal (especially if your patio can be seen from space) but just think how strong those scrubbing arms will be. Think of it as an old-school toning workout, like something Rocky would have done before fighting Dolph. 
Spray Your Patio
When you're finished, using the power setting on your hose again and hose down the area you just scrubbed. Voila, your gross green patio should now look like the glorious concrete chill our area you remember so fondly. 
Was it hard work? Yes. Do you now have all afternoon to enjoy a mojito while the sun dries your heavily-rinsed patio? Also yes. Of course, if you'd rather skip to the mojito complete with a little umbrella stage, click here for a free quote and we'll come and do the tough bit so you don't have to. 
Thanks for reading The Ultimate Guide To Cleaning Your Own Patio! For more lawn care tips and tricks, follow us on Facebook and Instagram.